TIRED OF WAKING UP WITH A START? SO AM I!
This Digital Mirror LED Alarm Clock has been designed with a range of features that enable it to be more than just an ordinary alarm clock. It features a mirror face, alarm, snooze function, temperature display, and adjustable screen brightness.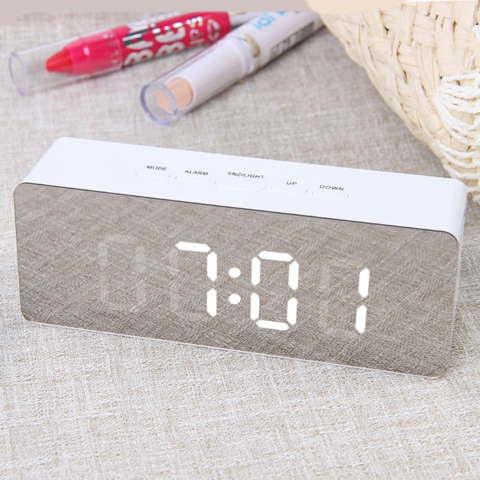 Digital Mirror LED Alarm Clock is multi-functional: Alarm clock, Temperature display, LED night light function, Makeup mirror.
Alarm clock: 12/24 hours display, alarm, and doze function. It's so easy to ensure a good sleep and best working environment, perfect nightstand, bedside or office desk alarm clock.
Mirror surface: Perfect reflection allows you to put on your make up – eyeliner, mascara, etc.
Temperature display function: Temperature range from 0 to 50.
Smart Night Light: Can be as a bedside night light. It can adjust brightness automatically at night.
Features:
– This LED Alarm Clock is designed to save power
– Large LED display
– 3 x AAA batteries (not included)
– 12 and 24 hours time display modes
– Supports the night mode for better sleep
LED Alarm Clock fits perfectly every into any modern home!